1. What is a charter?
A charter is a small group of men who meet together on a consistent basis with the intention of growing together and being the husband, dad, and leader they were always meant to be. Group size varies, and we have charters that meet all over. They meet in homes, restaurants, churches, garages, parks etc.
2. How do I run a charter?
Invite men to join your weekly gathering and build a community within your group. Study together, pray together, and do life with one another. The charter leader sets a lot of the smaller details like meeting times, locations, duration and the like. Ultimately, do what's best for your group and lead them well.
3. How do we use the Uncommen materials?
The Uncommen devotionals are explicitly designed to be used for our charters. They include scripture references, questions for discussion, and challenges for accountability. The topics are hard-hitting and relevant for men of all walks of life and focus on being a Husband, Dad or a Leader.
4. How do I start my own charter?
Starting your own charter is simple. We offer several different charter packages to fit different needs and you can pick the Charter Package that best suits your budget. Our Virtual Package is catered for overseas charters as it's all digital. The Jack Pack and the Starter Pack both contain wristbands and invite cards to help you inviting in men to join your charter.
After purchasing a package, you'll get an email for a background check (we cover that cost). Once that is completed by you and you've been found to be AWESOME, we'll mail your printed materials and email your electronic materials (devotionals and leadership materials). These tools will help aid you in leading these men to be the husband, dad, and leader they were always meant to be.
5. Annual Renewal
There is an annual renewal fee for our charters and when you do renew you receive an entirely new set of materials. We are continually developing new content, so you would get the latest set of devotionals, wristbands, new leadership materials, access to exclusive products and discounts and more when you renew your charter.
One of the most important things to keep in mind when buying a charter or renewing a charter is you are financially supporting Uncommen. This helps us to develop new materials, but it also helps us reach men, families, and communities around the world. Your support is more significant than you may realize!
Uncommen USA Charter Map – roll over a state to see the cities we are in.

Charters
See our international charters by location here.
---
Charter Spotlight – San Jose, CA
I first learn about the Uncommen through an app when I was searching for Men's Devotional Material for me to use daily and from there what really caught my attention is the challenges specifically the challenge about putting gas in wive car, opening the door for her and taking your son or daughter for an ice cream.
It may be a simple challenge but it's a meaningful gesture that over the years, as men, I totally forgot about it coz in today's culture and busy schedule, I teach my wife to be independent so I don't have to do it but that independency should only to a certain point because as a husband, it is my duty to protect and to serve my wife and the same time, as a father, my kids needs to see that.
To make a long story short, Uncommen change my relationship with my wife and kids;  and I would like to share my experience to my brothers by starting the Bethel's Mens Life Group and using the Uncommen materials. It took awhile to get it started but after many many prayers, God has answered my prayers.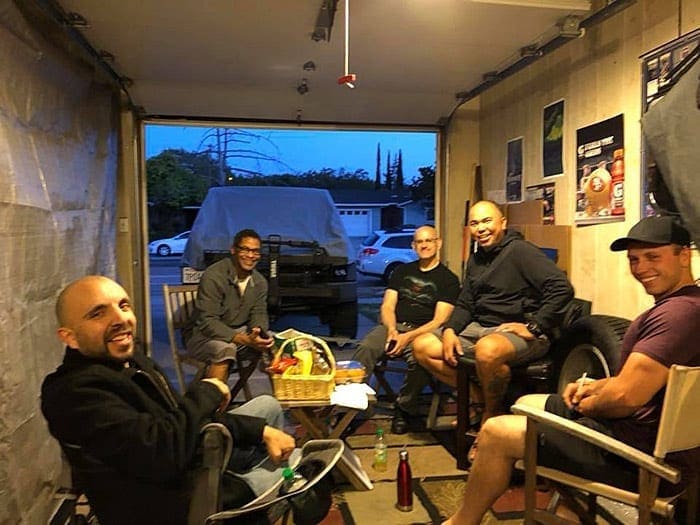 Because it is Uncommen, instead of starting the group in a common place like a room in a church, Sat morning breakfast or living room, we went Uncommen by using my garage to meet on a weekly basis on Mondays.
We have completed 2 series already,  Husbands and also Reclaiming Your Identity As A Man and will resume back on mid-Sept to start UNCOMMEN: Deeper and Darker Series. The group are excited to see what's next for us, what God has for us for this new series. As you have read on the testimony I shared to you.
So why I started SJ Charter Group? Because when men win; wives, kids and society wins!
Thanks. God Bless!