Giving Tuesday – November 27th, 2018
Fundraiser Link: https://www.facebook.com/donate/371234796774735/2035145593240300/
Are you ready for an Uncommen Challenge that will have a worldwide impact?
On November 27th "Giving Tuesday" we are asking you to partner with us to raise money for Uncommen. The reason we're targeting November 27 aka "Giving Tuesday" is that your donation can be doubled. Your donations impact families around the world and with the help of Giving Tuesday, you can double your efforts. Facebook is partnering with PayPal to match dollar for dollar gifts up to $2500 per transaction to qualifying nonprofits.
How to make your donation? (important details)
On November 27th – Facebook and Giving Tuesday are teaming up to match any donation to a qualified Non-Profit up to $2500. If you want to donate more than that amount, you can just make a second or third donation. The window is short as this matching donation is ONLY ON 11/27 (Starts at 8AM EST). Here is some additional information about Giving Tuesday.
Note: You're going to want to make your donations on Facebook on November 27th, 2018. So, save up the money you raised until this date. As the date gets closer we'll post the link to donate and DOUBLE your donation!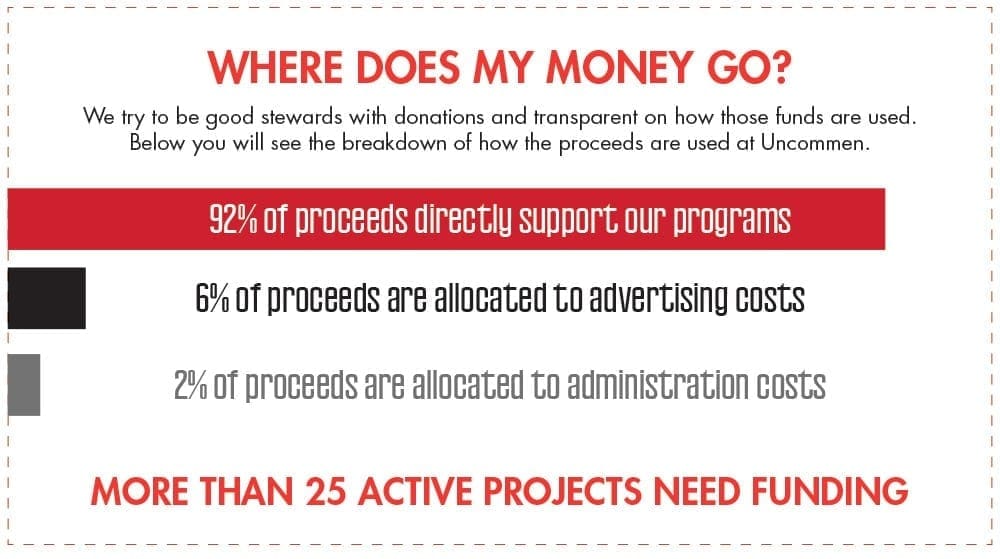 What's in it for you?
Well, you may not be able to run a charter or go on a mission trip to another country. But you may have the ability to make a donation that changes lives. Here are just three degrees of influence from donations like yours.
First Degree – Average of 8 men per group who are married with 2.5 kids on average (36 lives per group)
Second Degree – 59 charters with 8 married men and  average 2.5 kids (2,124 lives just in our charters)
Third Degree – What God is doing with men's hearts and those in their sphere of influence through our blog and Youversion.
The Giving Process (Step-by-Step)
You can click the fundraiser link to visit the fundraiser directly or go through the below process to give on Facebook.
Step 1: Visit the Uncommen Facebook Page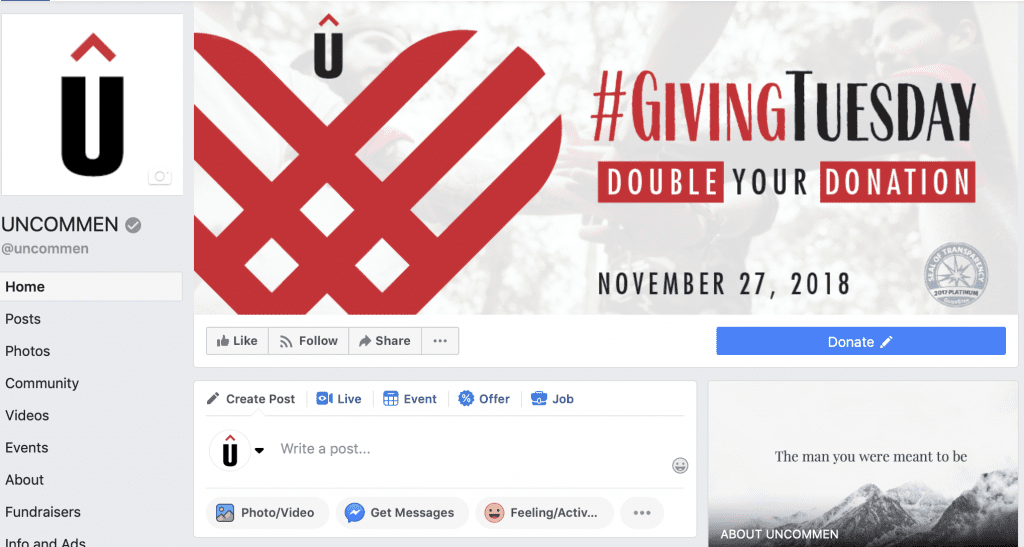 Step 2: Scroll down. The top post will be about the Uncommen Fundraiser. Click either the "donate" button or click on the title of the Facebook Fundraiser.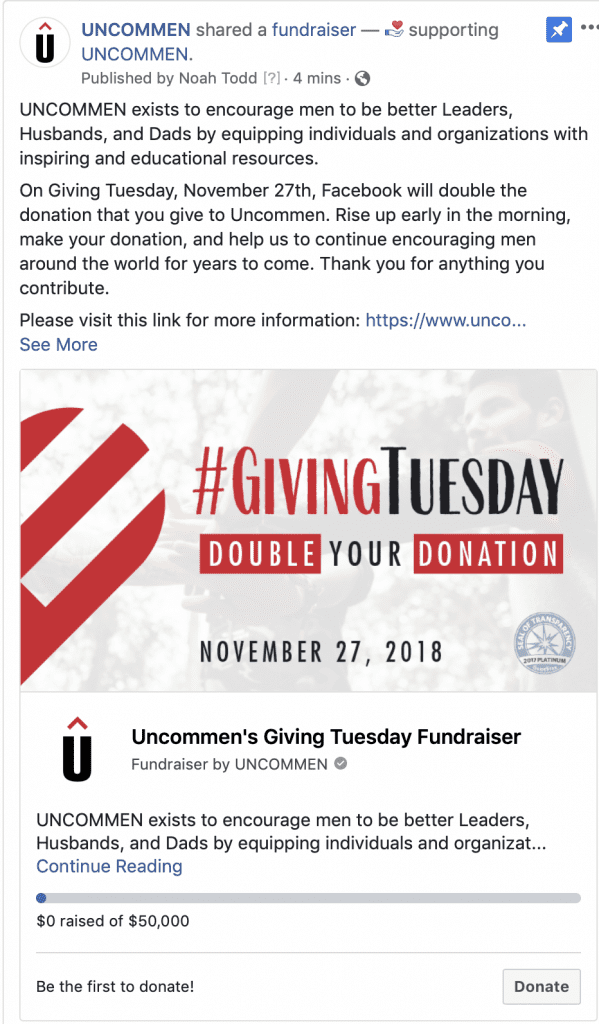 Step 3: You're now on the fundraiser. Click "donate" to continue. For donations to be matched, they must be made on November 27th, 2018.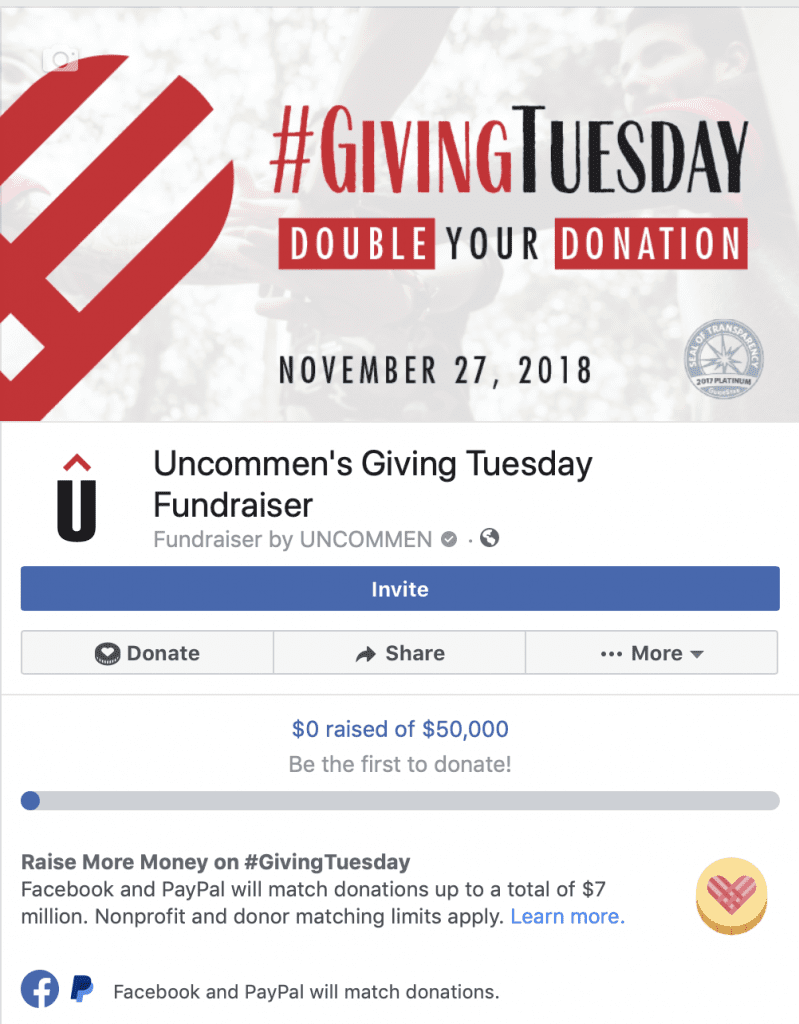 Step 4: This is the screen where you select your amount and enter your payment information. Click "donate" when you're ready.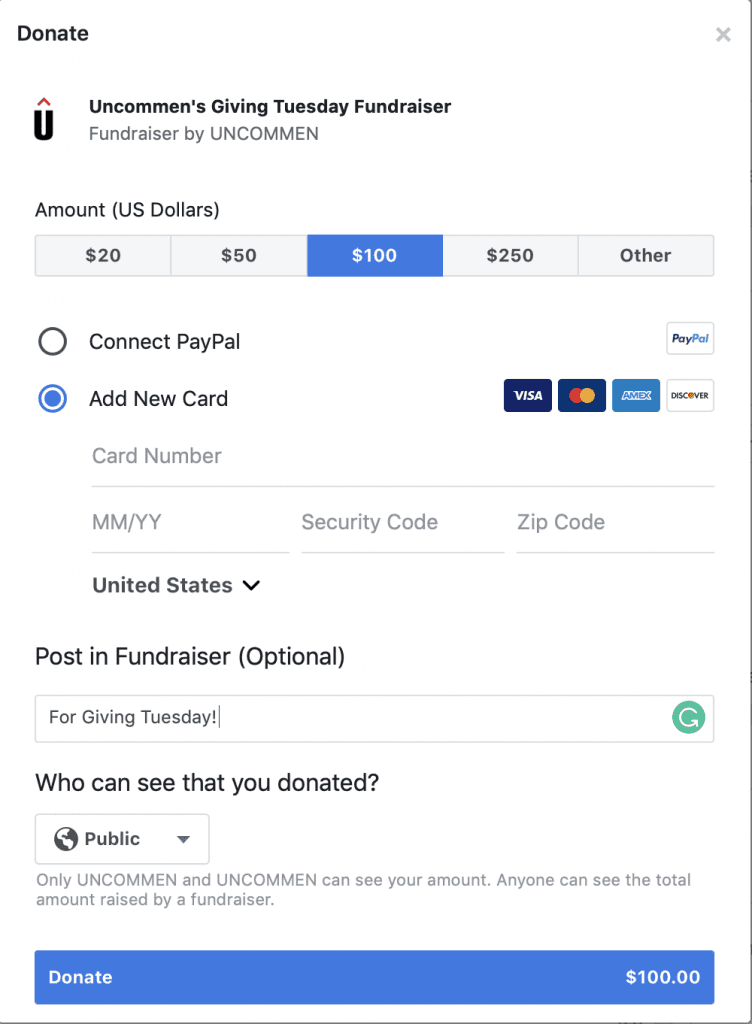 Step 5: To be sure your donation went through, make sure you end by seeing this "thank you" screen. Please share with your friends from here too!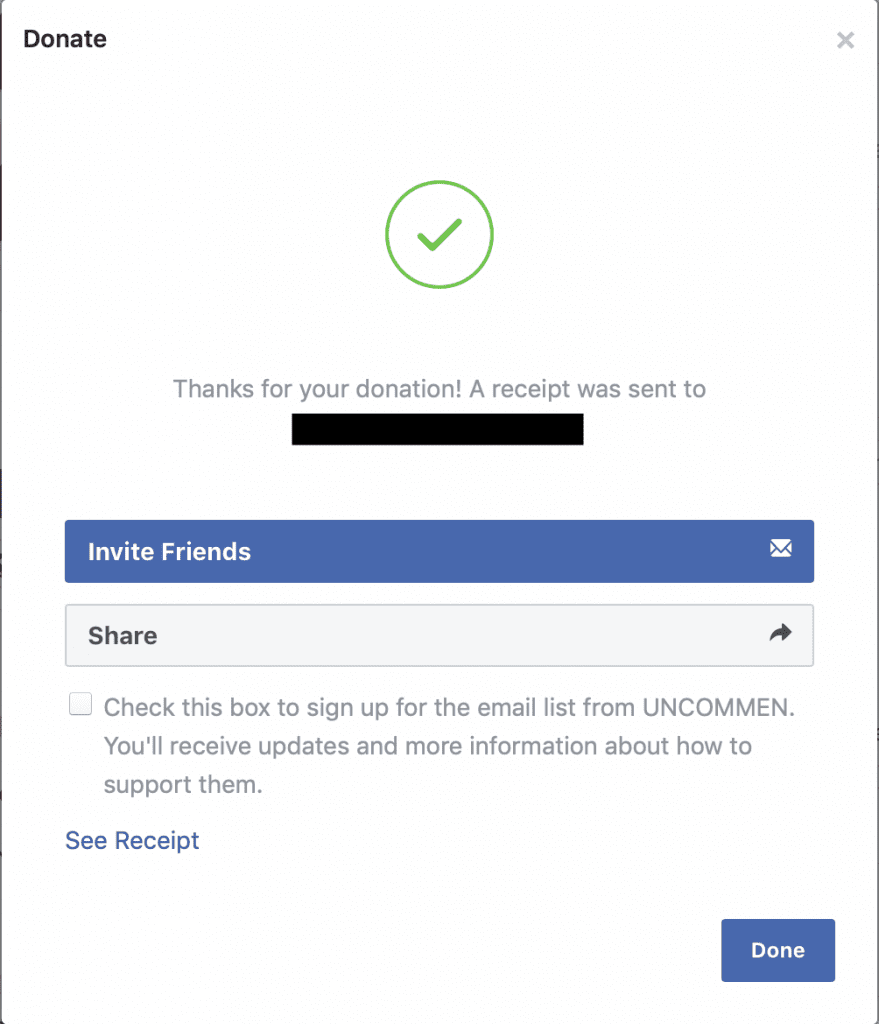 Not convinced yet? 
Here are some examples of how your support reaches men:
"My hope is that the group will become a leading ministry, showing men that we can be the leaders in our home/office/community/church etc. that GOD has called us to be. We want to stand out by standing up, and leading the next generation of 'men.'"
Christian P – South Africa
"Have had some small talks with men around me – small openings to build  further relationships – it's already very interesting to have good discussions, which I didn't have before – the first Uncommen forest walk only one man attended, but a lot of questions from other men I've invited."
Peter B. – Holland
"We would love to use the Uncommen material in our monthly publication to reach men with the Gospel of Jesus. We will even translate your content into our language. Thank you, Brother!
Billy J – India
"I found you folks through reading plans on my Bible app. As I've read more from, and about you, my desire to get involved has grown. As a single father, and Christian, whose involvement in youth sports has given me the unfortunate opportunity to witness far too much 'absent' parenting; I want to see if there is something I can do to make a difference."
David W. – Iowa
If you have questions, please contact me at tj@uncommen.org
Thank you in advance!